In the research department for neurorehabilitation at the Virgen Macarena University Clinic, Seville (Spain), our ReMoD walking aid is already being used and successfully tested on various clinical pictures under the direction of Anja Hochsprung. A corresponding study is in progress. (All images in this article are courtesy of Anja Hochsprung, Seville, Spain.)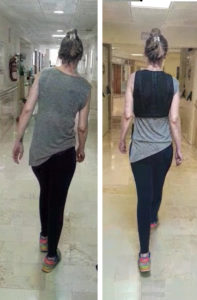 Click here for video: gait pattern of a hemiparesis patient without (left) and with our walking aid ReMoD (right)
The walking aid is used at a very early stage of the patient's illness in the Spanish university clinic. It is successfully used to verticalize and mobilize acute stroke patients.
The procedure for mobilizing acute severe stroke patients is as follows:
The patient is being set in the upright position and fixated in a (movable) standing trainer. In most cases, the patient is afraid to shift weight onto the paralyzed leg. With our ReMoD walking aid, he first learns how to stand upright and how to shift his weight, i.e. he is learning the alternation between the standing leg and the leg. Only when the paralyzed leg is sufficiently loaded does the ReMoD walking aid send a signal (see figure below). The task for the patient is to continue the movement until the signal comes.
Then the patient takes the first steps, supported by two trainers. Using our ReMoD walking aid, he can assess his upper body posture himself and correct it if necessary. (See illustration below)
After the patient has regained the necessary safety while walking, the supportive measures of the trainer are gradually discontinued and the walking aid is removed. (See illustration below)

The figure below shows a comparison of two measurement results from the gait laboratory of the research department for neurorehabilitation at the Virgen Macarena University Hospital. The graphic shows the gait of a patient with loss of one half of the brain before (left) and after (right) walking training with our walking aid ReMoD. The gait of the patient was not only significantly improved, but the possible distance to be covered and his walking speed were increased considerably (see photo and video below).

The first research results were presented at the CONGRESO ANDALUZ DE ICTUS and the INTERNATIONAL PHYSICAL THERAPY CONGRESS OF CASTILLA-LA MANCHA.